This year I am looking for ways to connect students to learning. Both Mark Treadwell and Rhonda Bondie speak of the importance of children connecting to their learning. So, inspired by them, I added an extra heading at the start of my units "Connection to Learning – Starting Point". I did this to prompt me, as the teacher, to remember that I need to move beyond engaging the children in learning – I need to have them connect to the thinking and knowledge they already have on this topic. I need to recognise their starting place for learning.
One great thinking routine for this is FQA (Fact-Question-Answer)
In my Year 5 program this term it looks like this:
Connection to Learning – Starting Point:
Thinking Routine: FQA
Text : Fire by Jackie French
Read story and ask students to note a  fact from the text that they would like to remember.
Place students in groups of 3.
The first student states their fact and then rephrases it as a question. Peers may offer support if needed.
One at a time the students in the group answer that question drawing on personal experience.
The group discusses which personal connection is most memorable and why.
Repeat steps 1- 4 for the other 2 students in the group.
Each student records their fact and the question on a FQA Microsoft Form.
As a class read some of the responses submitted via the Form. (With Microsoft Forms the responses can be downloaded as an excel spreadsheet.)
To conclude discuss:  How does this text relate to our lives?
Sample responses:
Stella (Aged 10)
Fact – Leaves crackle down into nothing, trees are as burnt and as dark as a piece of toast.
Question: Have you ever driven past where a fire has been? What did you see?
Mitchell (Aged 10)
Fact – Fire burns houses.
Question: Can fire burn my life?
I didn't ask students to record the most memorable response – but I wish I did because the whole class discussion was so interesting. I will add that question to the form for future lessons.
The students have provided the direction for further investigation via their questions. They were definitely engaged in the learning – I believe they also started to feel connected.
Discover more about Microsoft Forms at https://forms.office.com
Learn how to use Forms in the Microsoft Educator Community
https://education.microsoft.com/courses-and-resources/courses/forms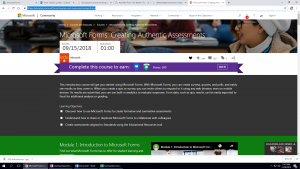 Read more about this routine in Differentiated Instruction Made Practical – Engaging the Extremes through Classroom Routines
by Rhonda Bondie and Akane Zusho (2018)