I really don't know much about Minecraft. I don't even pretend that I know what griefing and crafting mean when I am involved in Minecraft conversations with my students – they would pick me as I fraud in no time! What I do know is that Minecraft engages kids for hours – both when they are playing the game, and as they continue to discuss the game when they are afk (away from keyboard – I did learn something)!
I had read many articles and tweets about the incredible learning opportunities Minecraft offers our students and with this positive push form educators I decided to set up a Minecraft Edu account. I have students currently recreating the Gold Rush Era in our 'St Therese's' world during the lunchtime Makerspace Club, which is great. What I wasn't expecting is the incidental – and I believe more powerful – side effects of the Minecraft experience.
A couple of weeks into our Minecraft club I received this email from one of my Year 6 students…
Hello, Mrs Barker
 I regret to inform you but on Minecraft Edu Bert (A.K.A ***) has been doing some stuff that I am not happy about. He has blown up a large amount of area near the spawn. I have spent 15 minutes cleaning and fixing the area that suffered the destruction of the TNT. He has also destroyed part of my parkour course, a small amount of my turtle maze and a bit of a few houses/stairs people have built.
 I have fixed most of the damage but as I am only one person and have limited time on devices I have not been able to fix all of it. I hope that you can tell *** a little about the unspoken rules we have on Minecraft Edu (such as no destroying others buildings and no use of TNT)
 Enjoy the rest of your day  Jonah
This email prompted the collective writing of a set of rules to establish a culture of respect in our Minecraft world – a 21st Century learning opportunity I did not plan. This email also provided a great example of conflict resolution, good leadership and skilful communication for Jonah's peers.
During a recent lesson on de Bono's thinking hats, I asked my Year 4 cohort why I should include Minecraft in learning and again, I was amazed at the response. I helped them with the word 'resilience' as they were telling me that you had to learn to 'get over it' when things didn't work, but the rest of the words belong to them.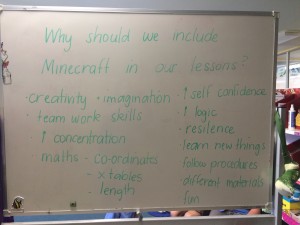 I like the idea of using Minecraft in education as I know I will have a captive audience. I just don't think I am the best person to decide how it should enhance learning, I need to work on that with the experts – the students.
I  was kindly informed by one student that 'you know Minecraft is like Lego but you just can't touch it. I don't like Minecraft – I like Lego'. An important reminder to consider differentiation in learning.
So for me it's back to my Minecraft world to find the one piece of wood I managed to cut down. The students assure me I can turn it into an axe if I follow the correct procedures.
For your interest these are the rules developed and agreed upon –
Players:
No destroying other player's structures or programs on turtles (Griefing is banned)
No use of TNT or explosives without permission
Chat is for game communication and must be relevant to the activity.
Use of MinecraftEdu at home is optional. You must seek parental permission before playing it at home
MinecraftEdu may be played at school during makerspace time or in the classroom (with teacher permission).
RESPECT ALL PLAYERS
Post Script: After giving my current Year 4 the syllabus documents for Stage 3 – they were more than capable, and excited, to help me see links between learning and games. A few non-Minecraft kids pointed me in the direction of Skylanders (for maths and storytelling) and FIFA for PDHPE.  I must admit I was also excited when a student made Apollo 11 in Minecraft for me following a space lesson.