Learning Online with Skype
Skype for Business is part of Office 365. It is a great tool for connecting with others online. A complete section in the Microsoft Educator Community is dedicated to Skype and the many ways you can use it to enrich learning in the classroom. The five areas of focus on the website are:
Virtual Field Trips
Skype Collaborations
Mystery Skype
Guest Speakers
Skype Lessons
Take time to explore the site then complete the Introduction to Skype in the Classroom course to earn your  badge. Click on the badge to get started.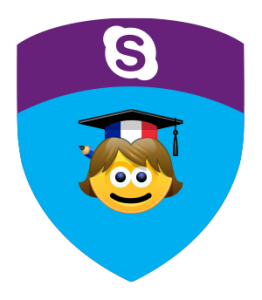 Once youhave the confidence to step into your first Skype activity the world will open up for you and your students. This interactive map is available on your profile page in the Microsoft Educator Community. Set a target with your students…how far will you travel in a term?
Translator takes Mystery Skype to a whole new level. Watch this clip to see it in action.
Visit the Skype Calendar to see what is happening
https://education.microsoft.com/skypecalendar
Skype also provides a great platform for teachers to connect with other educators for professional learning and collaboration.
Microsoft has an excellent collection of videos that demonstrate how to collaborate with others via Skype for Business. Follow this:   LINK
OR….you can watch my Oscar worthy version below.