Resources presented at MANTLE 2017
(Presented by Bernadette Bennett and Lynette Barker)
PowerPoint Link: http://bit.ly/2017librarypath
Email Contact: bernadette.bennett@ngs.nsw.edu.au     lynette.barker@mn.catholic.edu.au
Linking Steps to Skills
Initially we attempted to construct a Programming Guide that listed a set of information skills for each Stage (Early Stage 1 to Stage 3). However, after much discussion and pondering we realised that the needs of students and teachers, as well as the school environment, had a strong influence over what a skills scope and sequence might look like.
We decided it would be more practical to list the skills we would like a Year 6 student to have acquired before they moved on to High School.
The pace and level of skills developed is at the discretion of the teacher librarian in consultation with class teachers and will most likely be influenced by the school context. For example when Judging the credibility of a resource I would expect my Stage 3 students to be considering author bias in a text.  They would be able to do this because in Kinder they were taught to  distinguish between fact and opinion in a text, in Stage 1 they learnt to identify the author of a text and make judgments on their expertise.
What we are looking at building is a continuum of skills K-6 for your cohort of students.
With a group  of local Teacher Librarians we identified and listed skills for the 4 main steps of the Library Learning Path.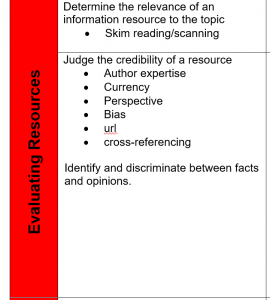 Download a copy of the Skills List with space to take notes. It may be useful for collaborating with class teachers or brainstorming lesson ideas.  Library Curriculum Planning Sheet
Linking Skills to Curriculum (We call it Library Curriculum)
We are required to link outcomes and skills in our teaching program to outcomes and skills in a KLA Syllabus. There are many opportunities to do this. To get you started we have created a document for each stage that gives examples of how we can link information processing skills with content and/or skills from the History Syllabus, Geography Syllabus and the English Syllabus. This is quite subjective and is simply a starting point for you.
Library Learning Path Cover  This can be included at the beginning of your program
Library Curriculum Early Stage 1
Library K-6 Overview English This document shows just English Content and gives you a good indication of the continuum of skills K-6
Library Curriculum K-6 English Content St Therese's  This document shows the English Content I have decided to focus on at my school in 2017
Planning Your Way
We have created a number of templates that you might like to use when programming. Pick the one that fits your style.
Library Curriculum Program Master without labels
Library Curriculum Program Master
Library Curriculum Program Master no resources
Library Curriculum Program Master with Resources