Whole school programming in OneNote :
Step 1 – Introducing the structure and the concept of EPIC Planning
I have been on my 'progamming in OneNote' journey for about 12 months – ever since I realised how powerful programming in OneNote can be (See original Post Deconstructing programming with OneNote). This knowledge was too good to keep to myself so throughout the year I have been testing, troubleshooting, brainstorming with a few staff members and on Monday (23/11/15) we launch our 'EPIC Planning with OneNote' initiative school wide!
In 2016, all grades will be involved in EPIC (Everybody Participating In Creative) Planning. EPIC Planning is the process with a 'grade program' being the product.
I believe consistent  language matters. I will be using the following terms when discussing this initiative:
EPIC Planning –  Everyone Participating In Creative Planning.    This refers to the process – planning, being creative, everyone involved.
Grade Program – This is the actual product that comes from our EPIC Planning. It is stored in Office 365. Staff have access to the OneNote program file  for their grade and executive have access to all program files. The program files have been named by grade eg Year 4 Program
Master Program – This is a section within the Grade Program. All teachers on a grade are responsible for creating this via EPIC Planning
Class Program Book – This is a section within the Grade Program. Every teacher has their own class program – an area to record how they have implemented the master program with changes to suit their cohort. Some teachers may have very little difference between the master program and their copy – others will record significant changes – this is where personality and individuality will have a place.

Master Program: The master program will consist of a Section Group for each of our seven KLAs. The sections are colour coded to reflect the 4 school focus areas (Catholic Ethos,Core Curriculum, Critical & Creative Thinking and Wellbeing)
Religion

English

Mathematics

Human Society and It's Environment (HSIE)

Science

Creative Arts 

Personal Development, Health and Physical Education (PDHPE)
During discussions with staff it was suggested we also include an 'Integrated Units' section for grades that wished to integrate some of the KLAs when teaching. Each KLA section contains sections for Terms or Semesters. Each Term includes a page detailing Outcomes & Skills, a page with a suggested learning sequence and a page of relevant resources. Having the resources on a separate page allows teachers to copy and paste the page directly into their Shared Class Onenote Book Content Library (a quick and easy way to provide student access to all resources for the term).
Class Program: each term teachers will copy the Master program into their class program. Outcomes and Assessments must remain the same across a grade however learning opportunities and tasks may be adapted at the class program level to reflect the
needs of the current cohort
personal interests and talents of a teacher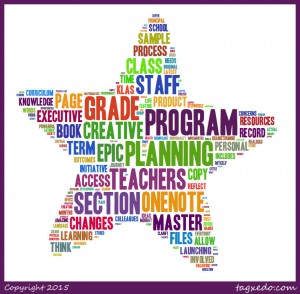 I am very excited to be finally launching this. My main hope is that
Staff have a shift in their perception from seeing programming simply as a product (something they 'have to submit') to a process  ('planning with colleagues'). Having all documents in one book will take away organisational concerns and allow planning time to be spent on creativity. 

(no more folders, no lists of word docs where noone can remember if it is the latest copy, waiting for a colleague to email the latest file etc etc) 

Staff have their program open daily on their computer, with real time changes made and notes recorded. Add a surface pro and stylus and the options are magnified.

Executive have live access to progamming at all times and supervision becomes about mentoring/guiding and not just 'checking'. Our executive have great curriculum knowledge and I believe this format will allow it to be shared. 

The principal can also contribute learning ideas K-6 from his 'ivory tower' (his words not mine)
To enable principal/executive contribution there is a page at the beginning of each Program Book back called 'Feedback'.
I know with change comes anxiety, concern, excitement (I think I have been through most emotions already) so we will need to be mindful of our teachers  and their feelings. Some will cope better than others with change. Kindness and compassion will be important alongside our push forward – change must happen.
I have attached a link to a Sample Program Book.  I have not uploaded all documents as I will provide a live sample when staff have completed the initial set up – however the sample gives an idea of what the program will look like.  
SAMPLE